From Michigan, With Love: Annual shopping guide features the best products of the year – Oakland Lakefront Lifestyles Magazine
The best in all things Polish since 1981. A family-owned business, Srodek's makes over 35 variety of pierogi, including kraut, kraut with meat, potato, cabbage, farmers cheese, pulled pork, spinach artichoke, breakfast, buffalo chicken, and many other delicious flavors – including gluten free pierogi. The company also makes incredibly good sausages, Kiszka, a variety of bun-size sausages for grilling, cottage ham, smoked bacon and ribs, chunky and fine ground pork and veal sausage, fun-to-eat sausage sticks, head cheeses, jellied pigs feet, krakowska, and many other meats. Srodek's has a large selection of Polish candies, jams, beers and other hard to find Polish treats. Their horseradish is some of the hottest in Michigan and is great by itself or in meals and salads. The new Sterling Heights store on Mound Road has a large fresh meat counter and now offers a growing line of European cosmetics and Michigan made products. The store will soon offer fresh, delicious to-go meals like kraut and kielbasa, Hungarian Goulash, city chicken, potato pancakes, breaded schnitzel, and others, plus hot panini sandwiches and a fresh salad bar. Srodek's makes any holiday party better.
Magdalena Srodek Prepares Nalesniki – FOX2 News
Hamtramck, Where Every Day Is 'Paczki Day' – Huffington Post
When considering what makes Hamtramck such a unique destination, it isn't easy to come up with one reason. That's because there is no one reason; there are several, and they appear to be multiplying before our eyes. It is dense and diverse, …
Paczki Day 2012: How to Make Your Own (And Avoid My Mistakes) – Huffington Post
Rodney Srodek of Hamtramck's Srodek's Campau Quality Sausage, a Polish market, said the secret was to add alcohol to the dough, so the dough doesn's absorb as much oil — I can't vouch for the science behind that, but I certainly love the concept.
Detroit Shines on Episode of 'Bizarre Foods America' – MyFox Detroit
From there, it was on to Dearborn and Hamtramck as Zimmern sampled cuisine from the middle east during a Ramadan celebration; explored the tastes of eastern Europre; and even attempted to polish off a ghost pepper pizza with influence from Bangladesh.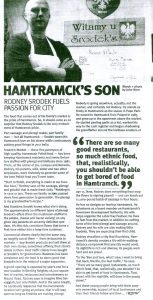 The food that comes out of his family's market is the pride of Hamtramck. So, it should come as no surprise that Rodney Srodek is the very embodiment of Hamtramck pride.
Part sausage and pierogi maker, part family man — but all Hamtramck — Srodek wears his Hamtramck love on his steeve while continuously putting good things in your belly.
Srodek's Market — those fine purveyors of high-quality, homemade Polish food — has been keeping Hamtramck residents and metro Detroit-Mrs stuffed with pierogi and kielbasa since 1981. There, at the corner of Jos. Campau and Norwalk. Rodney, his parents, wife, sister and two other employees, work tirelessly to generate some of the best Polish food you'll over taste.
"Start to finish, everything is made at our location here," Rodney says of the sausage. pierogi and golabki that is made fresh daily. 'Nothings in cans or jars. These are family recipes passed down horn generation to generation. The pierogi is my grandmother's recipe."
And Grandma Srodek knows what she's doing. The approximately 2o different types of pierogi Srodek's offers (from the mushroom-stuffed to the potato, cheese and bacon variety) on any given day possess an uncanny delicious quotient. It's this rich, consistent flavor that turns a first-time visitor into a long-time customer.
Commercial clients dearly feel the same way, as roughly too of them — front restaurants to markets — buy Srodek products and sell them at their own stores, sometimes affixing their store's labels to thorn. Foot traffic clients have bought at Srodek's for generations. Business has been consistent and the food is so damn goad that Srodek's isle the midst of a major expansion.
A grand opening is expected by year's end for a new location in Sterling Heights: 16.000 square feet of market, restaurant and microbrewery on Mound Road. Rodney says to imagine Nino Salvaggio's, but only Palish. And in the same breath, he cautiously reassures that the Hamtramck location isn't going anywhere, that it will stay open as long as Srodeks are making pierogi.
Nobody is going anywhere. actually; not the market, and certainly not Rodney He stands as firmly in Hamtramck as the statue in Pope Park. He moved to Hamtramck from Poland in 1985 and grew up in the apartment above the market Fle started peeling garlic as a kid, worked his way to the cash register and began shadowing his grandfather around the kielbasa smokers at age 15. Now. Rodney does everything from mop the floors to signing payroll — and can knock out a 1000-pound batch of sausage in four hours.
He has no designs on leaving Hamtramck. He volunteers as a board member on Hamtramck's Downtown Development Authority. His wife helps organize toe Labor Day Festival. He lives 5o feet from the market. In addition to crafting some al the best pierogi and sausage around, Rodney and his wife are also making little Srodeks. They are expecting their first child.
Rodney visualizes a city that flourishes. Hamtramck's density creates a it's.within.walking. distance component that any city would covet. Its nightlife is rich and diverse: its people work hard and are proud.
"In the '8os and '90s, what I saw, I want to bring that back: the life, the foot traffic," he says. "There are so many good restaurant so much ethnic food, that. realistically. you shouldn't be able to get bored of food in Hamtramck. That, mixed with the nightlife. will draw in the young crowd." And those young people bring with them property ownership, support of local businesses and then their friends follow and then.