Fresh Kielbasa
**Our Fresh Kielbasa is very lean and does not have to be cooked very long.**
Here are just a few ways you can prepare it: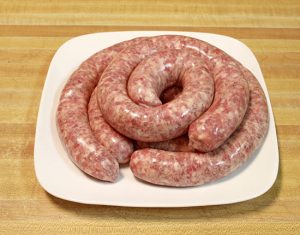 1.BOIL: Place it in a pot of cold water; once the water starts to boil cook it for only 10 minutes on Medium heat. Turn it off and let it sit for another 5 minutes.
If you want to you can then brown it on a pan.
Note: you can use the broth to cook sauerkraut or soup- YUM!
2.GRILL:
Pre-Heat the grill (keep on medium) or using charcoal get the coals really hot for about 15 minutes.  Put the sausage on- cover, flip in 7 minutes, cut a slit every 2 inches and pour beer over, grill covered for another 7 minutes.
Sausage is done once it is firm in the middle, it will still be pink, that is because we use Veal & Pork. If it is FIRM it is done. 
3.Fry: Put it in a pan with a little water (about an inch) on the bottom, cook on Medium, covered. Flip after 7 minutes, cut slits every 2 inches, cover and cook for another 7 minutes. Uncover, strain and brown if desired.
4.Bake:  Pre-heat over to 375 degrees.  Place sausage in an oven safe dish, add one inch of water so that the sausage is half way covered with water, Baking time is 40 minutes half way through flip sausage.
Serve with our Home Made Fresh Ground Horseradish
Pierogi
Our pierogi are fully cooked you can saute' in butter or margarine or cook in you favorite high temp oil.  You can also fry with bacon and onions for a little extra flavor.
Stuffed Cabbage-Golabki
Remove from plastic container.  Pre-heat over to 375 and cook for one hour, for additional sauce we suggest tomato soup or tomato juice.
Smacznego!