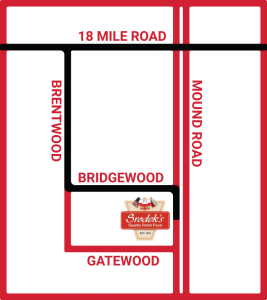 Road work starts on Mound road, in front of our Sterling Heights location, on Monday, August 16Th. This construction is part of a project that will continue throughout the next year. For more information about that project please visit innovatemound.org
You can get to our Sterling Heights Plaza location from 18 Mile Rd. by using Brentwood Street. On 18 Mile Rd, take Brentwood South to Bridgewood and head east to Mound Rd.
When leaving our store you can get back to 18 Mile Rd. by going south on Mound and making a right (East) onto Gatewood, then north onto Brentwood up to 18 Mile Rd.